Please provide your feedback about Test Dive Conference 2023 !!!
Test Dive Conference - 12 October 2023.
This year's conference will be based on topics related to testing, IoT, UX or Blockchain. New in this edition will be stream 3 – soft skills.  Test Dive Conference 2023 takes place on 12 October stationary in Krakow in Multikino  and online. Follow our social media to stay up to date!
We have a big pleasure to announce the complete program and schedule of TEST DIVE CONFERENCE 2023.
Map of event and additional attractions.
This year we have prepared many interesting and funny activities for our participants. Please find all details: 
Chillout Zone – Enjoy calming music, stunning global views, and get ready for more tech fun. Don't miss it!
Yoga – During this year's Test Dive we are going to host Roman who practices and teaches Yoga for almost two decades. You will have chance to experience  the unique  Yoga session with him. 
Workouts – There will be a chance to spend some time for physical exercises.
Retro Games – It will be big pleasure to have short break from the lectures and play the iconic games on old computers. 
VR Demo –  During Test Dive Conference 2023 it will be our pleasure to introduce two applications: LearningSpace and WelcomeToNokia, which were created in Nokia teams, and in addition, there will be an opportunity to play with virtual reality in the Beat Saber game.
5G Demo –  We present interesting demo of 5G technology which is being developed in Nokia Kraków.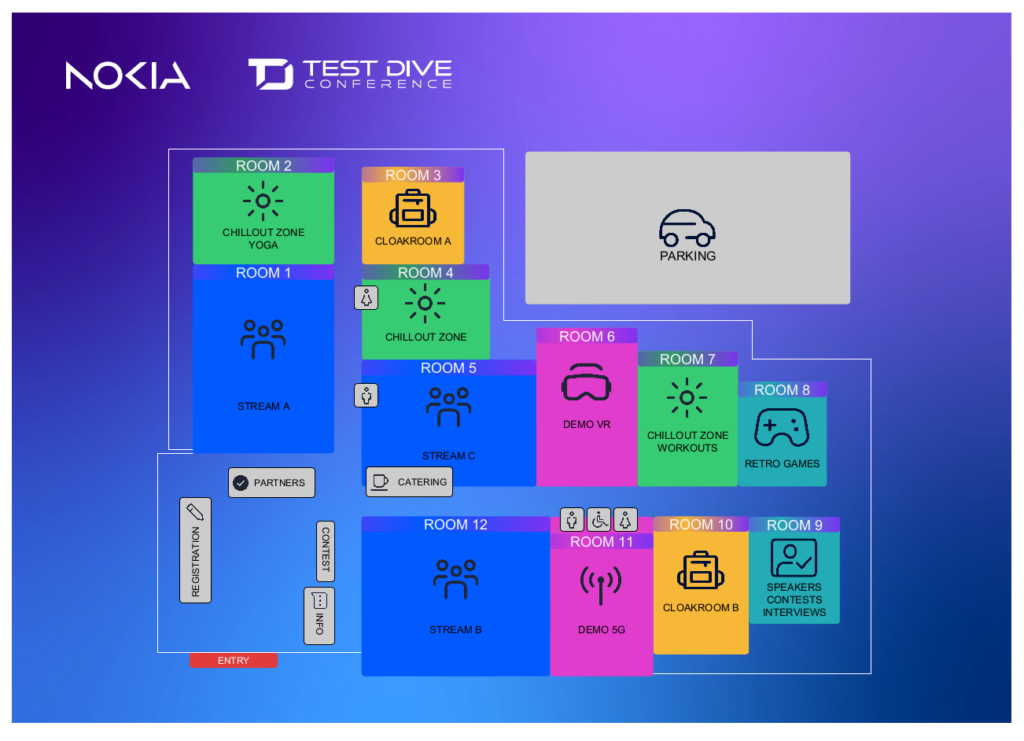 Contest "Test Dive Master 2023" - Chance to Win Fantastic Prizes!
We invite you to participate in our contest, which will take place during the Test Dive 2023 conference at Multikino. Here are some important details:
Conditions of Participation:
To participate in the contest, it is necessary to register by completing the registration form available at the contest booth.
Registration requires giving consent to the processing of personal data for the purpose of registration and participation in the contest. These regulations are available at the contest booth.
Optionally, participants can express their interest in participating in current and future recruitment processes conducted by the Organizer and give consent for contact and data processing for these purposes.
Contest Rules:
The contest will be held during the Test Dive 2023 conference at Multikino.
Winners will be selected by a jury consisting of three Nokia employees. The jury's decision will be based on answers to the contest question and having a complete set of stamps from 13 different activities during the Test Dive conference (detailed information available in the shortened regulations).
Prizes will be awarded to the top ten positions, i.e., individuals occupying places from 1st to 10th.
Prizes:
1st Place: NINTENDO Switch OLED Console (Red-Blue) valued at 1550 PLN.
2nd Place: LEGO City Moon Research Station 60350 + Smart band valued at 540 PLN.
3rd Place: XIAOMI Mi Band 7 Smartband (Black) valued at 220 PLN.
4th-10th Place: Nokia Gadget Packages valued at 200 PLN each.
Additionally, 11-15th place is going to receive an e-book code from Helion.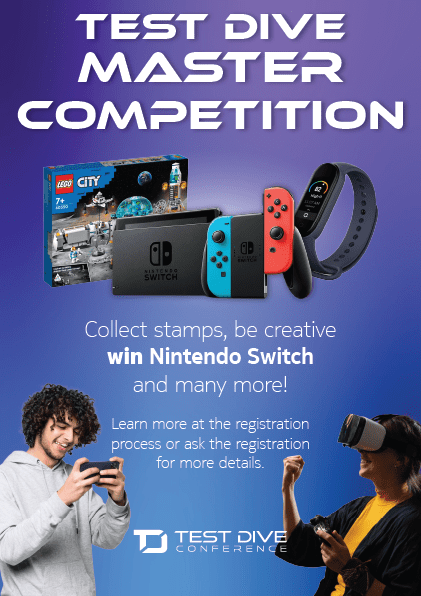 Announcement of Results:
Contest results will be summarized and announced no later than the end of the event on October 12, 2023. Laureates will be notified by an announcement during contest result ceremony ( 16:45, Stream A) .
Note:
We would like to remind you that the material prizes cannot be exchanged for cash equivalents or other awards. Contest winners cannot transfer the right to receive the prize to third parties.
Prizes will be personally handed to the laureates during contest result ceremony ( 16:45, Stream A) .
Don't miss the opportunity to win fantastic prizes, and join us at the Test Dive 2023 conference!
.
Ewa Marchewka is currently working as a Productization Director (Second Line Manager)  at Nokia. After getting a university degree in Telecommunication at AGH UST (Poland), she started her journey in the world of testing. During 18 years of her working life, she gained experience as Tester, Test Manager, Test Architect, Project Manager, Release Delivery Manager and finally Director. She enjoys giving speeches and sharing her knowledge on testing conferences all around the world. Her hobby is psychology of testing. You can reach her via  https://www.linkedin.com/in/ewa-marchewka-29b3b02/ 
During Test Dive you will get a chance to learn from her "Why do we need this whole diversity?" and explore measurable benefits of having a diverse team.
Programmer from education, profession and passion. Google Developer Expert for Web Technologies, senior software engineer at Qualtrics, public speaker, trainer and blogger. Passionate about Web, accessibility, teaching others how to code and code best practices.
Dominika will give us a lecture "Chrome DevTools – Swiss army knife in your browser"
Michał Mnich is a mathematician and computer scientist from Jagiellonian University. he holds a degree of Doctor of Philosophy (Ph.D.) in the discipline of Computer Science, obtained from Wroclaw University of Science and Technology. His doctoral research focused on Mutation testing in practical development processes and software engineering. 
 He has published research papers and presented his work at conferences. Currently, Michał holds the position of a professor's assistant at Jagiellonian University, where he contributes to academic research and teaching. In addition, he works as a contractor and senior software developer (C#) at ABB, applying his expertise in test-driven development and mutation testing to improve software engineering practices and code quality. 
Michał  will give us a lecture "Practical applications of mutational technologies in software engineering"

Jaroslaw Hryszko 
Jaroslaw likes to describe himself as a testing hipster  – he tested software (and artificial intelligence!) before it became fashionable. He specializes in the use of the latest technologies and approaches. He willingly shares his knowledge as a trainer, consultant and the author and co-author of a series of books, publications and conference presentations at more than 20 scientific and professional conferences, including EuroStar in Prague, STF in Milan and UKStar in London. 
 When he is not in front of a computer screen, you can find him in a garage, at a shooting range, somewhere far away in the mountains, in the middle of the sea or… at the Institute of Computer Science and Computer Mathematics of the Jagiellonian University. 
Tomasz Wojnar 
Tomasz is a distinguished Computer Science graduate from the Jagiellonian University. His commitment to science led him to internship at CERN, where he honed his skills and contributed to several significant initiatives, working alongside some of the brightest minds in the field. His time at CERN endowed him with a unique perspective and a profound understanding of the critical role of technology in solving complex problems. 
Presently, Tomasz is an active member of the research team at the Software Engineering Division at the Institute of Computer Science. In this role, he gained recognition for his research acumen and his commitment to pushing the boundaries of technology. His work in speech recognition and machine learning, particularly in developing robust evaluation methodologies for machine learning models, is widely respected in the field. He continues to contribute to the scientific community with his rigorous research and innovative solutions.
They will give us a presentation – "Harnessing YouTube for Robust OpenAI Whisper Model Testing: An Introduction to the Mi-Go Framework " 
Founder and owner of speakerslair.pl, a coaching company, organizing workshops, coaching sessions and helping clients with business presentations. 
Focused on effectiveness, clarity and uniqueness of message is aiming for the connection with the audience as one of the most important tools for public speakers. Has almost 20 years of business experience, working in and for small and big companies, reaching 10 000+ people yearly. Member of Professional Speakers Association in Poland. Vice-President of the association responsible for membership, partner and action strategy, conference and workshop events organizing. 
Presents 100+ workshops, lectures and presentations a year, in addition coaching selected clients from ranks of executive managers or helping prepare last-minute presentations. Events include TEDx, Spectacular Speaking, Pełna Moc Możliwości, BUCOM 2014, Toastmasters Leaderhip Institute i Toastmasters District Conferences, VI Kongres Business Intelligence, V Forum Dyrektorów Działów Prawnych, Festiwal Inspiracji in Warsaw, Edutainment in Krakow, Łodź, Katowice and Poznań, GEM CEE i CFO Forum in Prague, Wyzwania IT, Kariera IT i Kariera Programisty, Systemy dla Przedsiębiorstw, Akademia Mentoringu UAM Poznań, Techworld, Contman Forum,  Przyszłość IT and Forum Wsparcia IT. 
Jerzy shared stage with some big names, including polish speakers like Jacek Walkiewicz, Robert Krool, Marek Skała, Szymon Kudła, Grzegorz Turniak, Piotr Tymochowicz. In 2014 he also spoke from the same stage as Robert Cialdini and Brian Tracy. 
Jerzy will share with us presentation – "The Art of Public Speaking: Evaluating Soft Skills"
5 years membership in Toastmasters International. 
Won Toastmasters D2 area contest in 2023 for the best speech in English. 
3 years in IT as Systems Engineer. 
Andrzej  will provide couple of very practical tips on how to better your presentation.  Name of presentation: "How to say it ".
Horst Angerer is a senior telecommunications and industry professional with international management experience in Germany, Finland, China and France. Horst led many major strategic and business projects as: M&A, Industrial Business Development. 
    
In February 2022 Horst started a new mission by becoming co-lead of the Nokia-wide 6G program including early customer and ecosystem initiatives. In addition Horst holds a vice-chair in BITKOM, the German digital association, for Industry4.0. In both missions Horst turns ideas into tangible reality.
Horst will share with us presentaton: "6G, going for GOLD".  Understand the trends towards the 2030ies, 6G high-value use-cases, and key technology building blocks.
Paweł will present us the topic: "Being an effective Project Manager with a testing background" in our new, soft-skill stream.
He will talk about few things:
– An effective Project Manager with focus on Power Skills
– Compare different type of bikes as a trampoline to effectiveness of Project Manager
– How Power Skills mapped to Testing
– Career Path for Testers – With focus on being a Manager
Rafał will present the topic: "Non Judgmental Language". The main goal of this presentation is to help the participants become more observant of their own thinking patterns and of the linguistic default, knee-jerk reactions and responses. Learning
to assess issues from various perspectives in a non-judgemental way brings multifold benefits, including finding new and often more creative solutions. 
Formerly a broadcast journalist with the BBC in London, Rafał has been InterComm's Executive Communication Coach since 2009. He specialises in business communication and public speaking workshops for CEOs, managers and teams. He also hosts business conferences and chairs expert panel discussions in both English and Polish.
A passionate Test Engineer with a strong focus on Test Automation and Continuous Integration/Continuous Delivery (CI/CD). Sławomir consistently champions for the adoption of modern software development techniques that ensure rapid and high-quality product delivery. Recognizing the value of shared knowledge, he also collaborates as a trainer with various institutions, spreading his expertise and passion.
Sławomir's presentation called
 "Effective ChatGPT usage: start with understanding"
 is designed to make you feel at home with ChatGPT. We'll start with a simple and friendly introduction to AI and how it gave birth to these incredible chatbots. Don't worry, we won't get too technical!
Sławomir will be diving into a collection of essential tips and tricks that can help you finetune your interaction with ChatGPT, a crucial skill for all you software testers out there.
Radek Smilgin, an independent consultant and a seasoned trainer in requirements engineering, software testing, and quality assurance. The brains behind
https://testerzy.pl
since 2006, the ultimate portal for Polish testers. Author of publications on software testing and QA, including beginner-friendly books like "Zawód tester" and "Praktyka testowania."
A sought-after speaker at both Polish and international conferences. The mastermind behind TestingCup – Polish Championship in Software Testing.
Have you ever wondered about the future of AI development? Radek Smilgin is here to challenge common misconceptions and shed light on the simplest ideas with his presentation "AI Won't Kill Everyone but Change Everything".
Andrzej will present the topic "Crypto-Utra-Marathon". 
Bulding a project in Crypto/Blockchain space is a tough and a long-term play. Similarly to preparing to and running an UltraMarathon. There similarities and what is Crypto Ultra Marathon will be discussed here!
"Is test management REALLY dead ?" It is often believed that test managers are no longer needed. They are no longer relevant; instead, agile, self-organizing test teams are what count. But is it actually accurate? Is it time for test managers to retrain and take on new responsibilities? It appears that test leads still have time left given the quantity of employment offers that are being offered to them. Different and new abilities are undoubtedly required. But in the end, it all comes down to having good team leadership skills. Arnika therefore wants to have a discussion with the participants on what the future test manager would look like and their position within the company. 
Dive into the World of Test Estimation with Grzegorz Niczyporuk! A passionate quality assurance expert with over 12 years of experience in the field. Join him for an engaging lecture titled "Test Estimation – How Did I Become a Fortune-Teller."
Grzegorz is not just an expert; he's a believer in people's potential. For over 8 years, he's been helping teams build strong quality assurance processes and a quality culture.
Marek Zarzycki is a seasoned professional in economics, trading, and public speaking. He brings a wealth of experience and expertise to his lectures.
Join us for an insightful lecture by Marek, a passionate economist, communicator, and trading expert. In his talk, you'll discover:
The Power of 1% Improvement: Learn how small, consistent progress can lead to significant growth.

Habit-Driven Productivity: Understand the difference between effective and ineffective work habits.

Avoiding Psychological Traps: Identify and overcome mental barriers to success.

Achieving Excellence: Gain practical strategies to enhance performance in any field.

Efficiency Boosters: Implement simple rules for precision and speed in achieving your goals.
Elevate Your Performance with Marek Zarzycki's lecture: "Use psychology of continuous improvement to boost your performance."
Psychologist, Jagiellonian University graduate, specializing in business psychology and social change management. Author of three books, an expert at Radio ZET and TVN24 television station. With over 20 years of experience, Sylwia has trained thousands of leaders worldwide, including top-tier clients like Amazon, Disney, Facebook, Google, Shell, Unilever, and many more. She specializes in empowering leaders with empathetic leadership skills, building authority through cohesion and authenticity, and navigating "difficult" conversations with employees. Recognized by Forbes as one of the most influential women on Polish LinkedIn.
 Our upbringing emphasized politeness and obedience, with the belief that "the meek shall inherit the earth." But has this made us assertive adults, or are we trapped in submission and passive-aggressiveness?
In this talk, we'll debunk the popular childhood myths that have shaped us and learn how to break free from their limitations, unlocking our full potential as adults
Joanna will try to convince the audience that "QAs are the Guardians of Quality and We Won't Let Nobody Tell Us Otherwise".
Joanna  is QA Specialist and Team Manager with over 9 years of experience. She loves the lack of routine, challenging tasks, and having a real impact on projects. Joanna is interested in business analysis to mediate between clients and developers even better. In her free time, she loves training pole dancing and aerial hoop.
She would like this presentation to be a moment of reflection on how QA's work is perceived by the environment.
She would like show useful arguments as to why it is actually profitable to have a QA in the software team, what can be changed, and how. What's more good examples of how QA supports the development process and teams outside of testing.
With a strong background in ASIC and FPGA design, Tom Richter has been with MathWorks since 2011. He's a master trainer and Application Engineering Specialist for HDL and System-on-Chip.
Join us for an insightful lecture, at Test Dive Conference,
"Verify and Deploy Signal Processing and Control Algorithms on FPGA and SoC"
by Tom Richter!
In this session, Tom Richter, an expert in Model-Based Design and FPGA development, will explore how MATLAB and Simulink are essential for developing signal processing and control systems. Discover cutting-edge applications in communications, IoT, and more.
 Learn about FPGA and SoC's pivotal role in implementing advanced systems and the reliability checks needed for successful deployment.
Jarosław will be sharing insights on "Effective mobile UI testing with Maestro."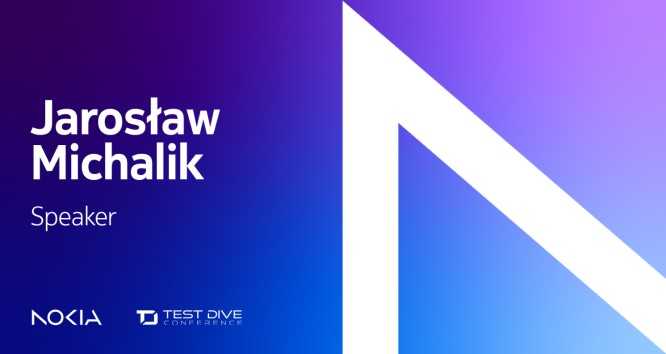 Videos from Test Dive 2022
Our conference takes place in the unique venue of Kraków Multikino cinema

Info about our sponsor – Helion: 
Are you aware that Helion is the largest publishing house and IT bookstore in Poland? Established in 1991, it offers a vast collection of printed books, ebooks, and audiobooks related to the IT industry.  Helion's publications are addressed to programmers, web developers, project managers, network administrators, artificial intelligence professionals, computer graphics designers, and data analysts. Helion also offers video courses for those who prefer a different learning format. Helion boasts an impressive lineup of specialists who share their expertise through their books and video courses, including Robert C. Martin, Jerzy Grębosz, and Adam Józefiok. Additionally, the publishing house and authors are currently working on new professional literature. To keep pace with the ever-evolving world of technology, it is crucial to remain up-to-date and continuously improve your skills, whether you're programming in Python, developing applications in JavaScript, or working with databases in SQL. Visit https://helion.pl/go-ksiegarnia-dla-specjalistow-IT and explore numerous learning opportunities. 
© Nokia 2023 All Rights Reserved.