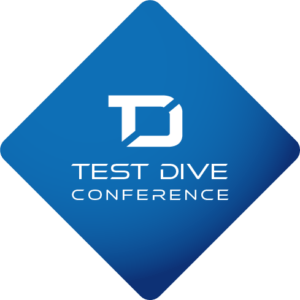 Thank You!

See you next Year!
Test Dive is one of the largest test conferences in Poland. The conference may be attended by everyone, especially students, professionals, representatives of academics, business partners and all passionate.  Our event presents the latest testing trends, best practices and topics related with software development life-cycle and quality. 
The conference creates space to exchange experiences, discuss and deliberate ideas. It is a unique platform to integrate test enthusiasts with academic community and business by networking.
The lectures are focused on hottest topics in industry: 
🔵  Testing Techniques and Methodologies, 
🔵  Test Automation, 
🔵  Test Management, 
🔵  Security, 
🔵  Agile, 
🔵  IoT, 
🔵  DevOps, 
🔵  Blockchain, 

🔵  Machine Learning.
Each of them is initiating interesting discussions related to the quality and software testing.
Workshop, VR and even more
Workshop: First steps in automated testing in PyTest
Presentation dedicated to Python developers and testers wishing to learn PyTest testing framework. The lecture covers the basics of PyTest and requires no prior experience in it.
The only pre-requirement is at least basic knowledge of Python syntax and language features. Additionally, during the lecture a quiz with prizes will be held. To participate only phone with internet connection will be required.
The Nokia Learning Space – the future of remote hands-on learning
The Nokia Learning Space is a Virtual Reality based training and learning campus. Not only can lectures be organized worldwide in an immersive environment with build-in green-screen technology, but also hands-on practice can now be virtualized in a risk-free environment.

As more and more of our daily work is done remotely, the need for remote training and learning grows. Remote training can flexibly be organized and removes the need to travel with a cost-efficient and environment-friendly solution.
With VR we created a life-like training environment in 3D that allows the learners to experience and practice a full installation & commissioning training step-by-step. In order to do this we replicate the hardware in a digital form, then with little extra cost we can replicate the training setup and make it available globally. The cost-saving is substantial, but there are further benefits from digitalization. Learning also means making mistakes, practice in VR can be done risk-free. Just imagine what could go wrong in a training on how to install equipment at heights, or when learning how to extinguish a fire.
Join us at the conference to experience virtual learning with Nokia!
The sixth edition of Test Dive Conference will take place on 13th October 2022.
We have a hybrid formula this year. You can participate in two ways:
  in person – visit us in Multikino Cinema in Cracow,
  online from anywhere in the world.
TestDive 2022 will provide you a lot of lectures with interesting speakers and a discussion panel.
We cannot wait to meet you all!
Polish Testing Board – Stowarzyszenie Jakości Systemów Informatycznych
A non-profit organization that supports the development of the IT community by supporting personal development. Through the accreditation process, they take care of the quality of trainings preparing all PL market participants for international ISTQB® and IREB® certificates. SJSI unificates the terminology concerning issues related to quality management, in particular testing or business analysis, and support for local and international initiatives to implement good and proven processes and practices. SJSI creates a space for exchange of experiences. e.g. as the main organizer of the TestWarez. In 2022, they organized the first edition of a conference for beginners in the IT industry "Na Podbój IT!". They can easily call themselves a patron not only of testing but also of quality in Poland.